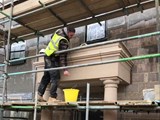 High-Quality, Hand-Finished Limestone Products
Manufactured using a semi-dry process from high-quality limestones and local sands, all orders are hand-finished to give an end product which is almost indistinguishable from natural stone, and at a far more affordable price.
All of our products are available in a variety of colours. If you would like to see them in physical form to see the colours, we can arrange for some samples to be sent to you of what we have available.
We can also undertake the manufacture of any special requirement projects you may have, so please do drop us a message or give us a call to talk through your idea.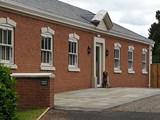 What Products Can We Manufacture?
Band / Strong Course
Gable Details
Bays
Keystones
Caps & Spheres
Keystone Heads
Cills
Mullions
Copings
Name & Date Stones
Door Surrounds
Porticoes
Fire Surrounds
Quoins
How We Work
We take a lot of pride in how we do things, and want to make sure that every client gets the experience and quality they expect. To do this, we offer...
On-site visits enabling any awkward or special requirements to be discussed.
Guaranteed delivery dates and all goods leaving our premises are shipped on pallets, packed with polystyrene, shrink wrapped and fully documented.
We have our own, Pembrokeshire Cast Stone Promise, that nothing will leave our premises that we are not entirely satisfied with.
Complete bespoke services for any project type, and we're happy to talk through and ideas you have and give advice based on our experience which may help you find a solution.
Work with you throughout the process, from requirements to having cured product on-site.